Places to Go in Philadelphia
You don't have to be a history junkie to love the city of Philly! Take a trip through time as you explore this wonderfully historic city and discover the modern place it has become!
Rittenhouse Square, one of the main areas, is filled with tasty restaurants, parks, and shops. On our trip, we ran into a market that lined the whole main street of the square. There I was tricked into doing many push-ups for a prize of a free gym class - not the prize I was looking for!
If you do contain that inner history fanatic, the Independence National Park is for you! The streets turn into brick roads as you dive deeper into the old town. Here you find the famous Liberty Bell, Independence Hall, and many other sites where history sprouted. The restaurants in this area are even themed to old-time dress where you can feel as if you were blasted to the past!
Dive into the hustle + bustle of the indoor market that stretches throughout the whole terminal! Local vendors can sell sandwiches, dishes, or just separate fresh ingredients. Try any of the options within the market and you will be walking out satisfied!
You can't go to Philly without visiting Love Park! The famous LOVE sign stands tall, a little smaller than expected, in the center of the city. What is more fun than taking a picture with the LOVE sign? Watching other tourists whip out the selfie stick and try to get one themselves! Hangout by the fountain and enjoy some people watching.
Something is always going on in this park! We went to Philadelphia during the Chinese Lantern Festival which was unlike any visual festival we have been to before. Many culture-inspired lantern sculptures lit up the night as we walked through the park.
Spruce Street Harbor Park is located along the Delaware River lies a hammock heaven between the light-strung trees. Along with hundreds of colorful hammocks, people can enjoy many outdoor games of big chess, Jenga, and connect 4! If you get hungry, the park has changed the game of food trucks by converting old shipping containers into window service dining across the boardwalk. Menu items include local favorites such as cheesesteaks, crab fries + donuts. We spent many hours here playing games and relaxing in a hammock with an old-fashioned Philly Cheesesteak!
A unique indoor + outdoor art gallery that uses non-traditional materials to create the installation. These items include anything from a fork to a bicycle wheel surrounded by many pieces of colored glass and tiles! Weave your way through this exhibition to see what the walls are made of.
Food Guide to Philadelphia
So many delicious places to eat in Philadelphia, but where is the best? We helped you out targeting the places you won't want to miss on your trip to this food hungry city.
Brunch:
A local favorite + we know why! The food is worth any wait and you'll be thinking about this breakfast all day.
Parc:
Serves an interesting selection for brunch including many seafood options that will change the way you look at brunch. Enjoy your meal outside where you can watch all the passing locals.
In need of a coffee? La Colombre coffe shops are all over the city + satisfy any need for caffeine.
Outdoor Eats:
An outdoor wonderland with an incredible menu to match! Lights are strung along trees and plants that surround the wooden seating area. The aesthetic is too cute to not take a picture!
A completely different vibe as a diner, bar, and lounge! The outdoor seating contains colorful benches, umbrellas + barrels surrounded by local flowers. If you stay late enough, the diner turns into a nightclub.
Sweet Treats:
Fancy donuts + fried chicken, a surprisingly great combination! With imaginative flavor combinations like Strawberry lavender, guava poppy, pomegranate Nutella, and salted tehina, this company helped sprout the donut craze that has taken over Philly!
A chocolate heaven covered in, well, chocolate! Chocolate cocktails, pizza, fondue + other sinful sweets wait for you here! You can't go wrong with any of the options here.We say forget dinner + skip right to dessert!
Breweries:
Philadelphia is home to many brewing companies that would be totally worth the trip. Nothing is better than a freshly poured beer from the original tap! Also, you learn so many cool drinking facts you get to share with your friends.
The best brews we've been to are:
Is one of the more well-known breweries in town, and for good reason! Their taproom is a great place to hang out, complete with delicious food. Many of the beverages are themed to the revolutionary period, so pick your favorite founding father + drink up!
A smaller brewery compacted with two stories of good beer and good food!
Cheesesteaks: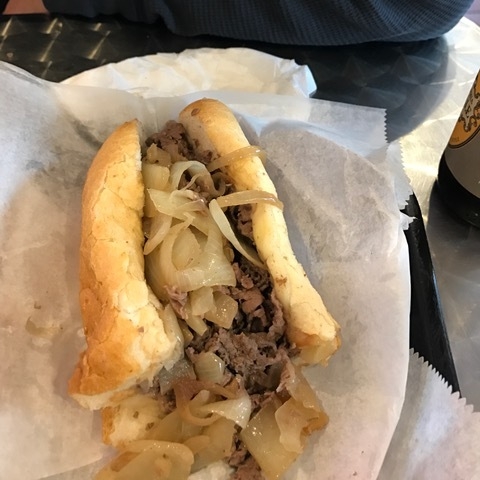 We saved the best for last! Once you have a Philly Cheesesteak in the city you won't be able to have it anywhere else! The greatest cheesesteak rivalry is a feud between Geno's and Pat's downtown. Jims is another great option, recommended to us by a local. Philadelphians take their cheesesteaks pretty seriously, so if you are looking for more recommendations - be sure to ask around. My mouth is watering just thinking about it!
Philly runs deep in tasty dishes and tasteful restaurant style. Hopefully, you love these options as much as we did!
Is there something we missed? Let us know in the comments!