West Coast
We know the frustration of finding a good vegetarian option on the menu! That is why we asked our Pack Up + Go friends from all over the nation to tell us their favorite veggie friendly restaurants! Those on the East Coast may think of the West Coast as the base of the vegetarian community + we want to highlight these can't miss spots for veggie lovers!
Image: Courtesy of City, O' City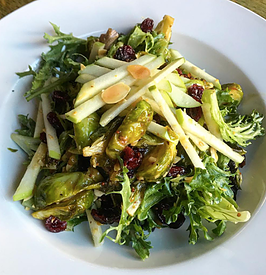 A passion for food, art, + the city of Denver in one restaurant! City, O' City is open all day long to cater to any craving at any time of the day. With their very own urban micro farm, they stay with local produce + vendors. The restaurant has eclectic and re-purposed decor creating a fun and friendly environment. You can truly find any satisfying vegan dish on this menu!
Plant-based Mexican Cuisine? HECK YES! For all lovers of avocados + an extra spicy kick, Gracias Madre is a must try. All menu items come from their very own organic farm with a seasonal menu. The mission is love for the earth, a healthy life, and diverse thinking. Don't forget to make a reservation and request to sit outside! Our followers say, "It is gorgeous + a celebrity hot spot!"
LA Honorable Mentions:
H.O.P.E. - Healthy Organic Positive Eating!
Mohawk Bend - "Their buffalo cauliflower + brunch options are SO good"
Sage Bistro - A plant-based bistro + brewery!
Cafe Gratitude - Serving organic, plant-based food in five locations around LA
Ramen Hood - Vegan ramen dishes from "Top Chef" winner Ilan Hall
An awesome indoor + outdoor option to enjoy Portland! You'll never want to say goodbye to the Bye + Bye! A complete hipster chic menu + atmosphere adds to the experience you'll have here. Head over for Happy Hour or Late Night bites, you're sure to find great deals!
SALT LAKE CITY - SEASONS ($$$)
A plant-based twist to gourmet comfort food, Seasons mission is to keep it local, organic, and sustainable for our environment. They want to show other restaurants that there can be more than just one vegan-friendly option on the menu! Enjoy more tasteful dining at Seasons accompanied by a deluxe wine + dessert menu to finish the meal.
A whole new meaning to healthy fast food! Veggie burgers and sandwich to fill any craving you're having. They have a quick and easy grab + go section or you could relax in the outdoor seating area. In the mood for something sweet? Cool down with some vegan soft serve! Can't go wrong with a quick trip to Evolution.
San Diego Honorable Mentions:
The ultimate Vegan Paradise! Located all over the nation but each restaurant serves a different menu. The restaurant provides a message of healthy and peaceful living for all their customers. Loving Hut is committed to a green life to protect Mother Earth starting with a strong community of vegan friends! Our friends in San Fran are loving it, find the closest one near you.
SANTA BARBARA - MESA VERDE ($$)
A top destination for many travel bugs for the hipster vibe, great aesthetic + even better food! Stop by for any meal of the day + you won't be disappointed. Mesa Verde creates original dishes that add flavor to any plant based dish. This restaurant gives you true Santa Barbara vibes!
The place to go if you are missing any of the flavor meat used to bring. Highline tackles recreating any of your favorite sandwiches into a vegan-friendly option from tacos to old-fashioned pub food. You truly can BBQ anything! Check out many of the fun events held here during the week to enjoy lunch with a show.
A great way to eat out but not regret it the next day with these incredibly healthy + vegetarian-friendly options. Get the classic acai bowl or dive into a summer sushi bowl. Any option is a good option + it is good for you too! Don't leave without trying one of their fresh juices as well.
Did we miss your favorite vegetarian or vegan restaurant on the West Coast? Let us know in the comments!