To continue celebrating National Women's Month, we want to share some podcasts by women, for women + about women! The podcasts on this list include everything from serious women's issues to bedtime stories about some bad*ss ladies. Tune in to one on your next flight or road trip and let us know your favorite!
All of these podcasts are available on iTunes + Spotify for your listening convenience.
Burn It Down is right at the intersection of feminism + sports. With five hosts who are either sports writers and reporters or professors of history and women's studies, this podcast is perfect for ladies with a love of the game! Some of their features includes tossing shady sports figures on the proverbial "Burn Pile", celebrating the coolest women, non-binary + gender-nonconforming individuals in sports, and interviewing some of the most influential figures in the industry. Whether you're a die-hard sports fan or new to the game, this podcast will have you up on the latest in sports' news in no time!
Labeled "a podcast for long distance besties everywhere," CYG combines current events with women's rights issues in this podcast co-hosted by real-life BFFs Ann Friedman + Aminatou Sow. What makes this show unique is that they actually call each other every week to record it! While on the phone, these two ladies discuss the latest in pop culture and politics to make sure listeners are all caught up on what's what in today's news. Even cooler? They make sure to highlight women who are creators, movers + shakers out in the world to bring attention to all the insight they have to share. Updates every Friday will have you saying TGIF!
This limited series, in collaboration with the Sephora Collection, features female founders, creative, entertainers + thought-leaders from around the world. Some of the key features include Molly Hayward, co-founder of Cora, and Aurora James, founder and creative director of Brother Vellies. The six-episode series is sure to leave you wanting more!
Goodnight Stories for Rebel Girls is family friendly + feminist, the best of both worlds! Based on the book by the same name, narrators tell the stories of 100 heroic women, including individuals like Frida Kahlo and Serena Williams. Whether you listen to them at night with a little one, or by yourself on your commute to work, there's no doubt that these awesome ladies will leave you + others inspired to keep kicking butt in your every day life!
Do you like making, seeing or eating food? All of the above? Then Radio Cherry Bombe is the podcast for you! This podcast updates almost daily and features interviews with the coolest, most creative women in the world of food. Each week, host Kerry Diamond, co-founder and editorial director of the indie magazine Cherry Bombe, talks to the chefs, bakers, pastry chefs, stylists, writers, cookbook authors, + others making it happen in the food business.
If you're a mom, you may have experienced the overwhelming feeling of motherhood + thought you were the only one who'd ever been through it! In Super Mamás, sisters Bricia and Paulina share their down-to-earth stories of "Mamáhood" with friends, experts and each other! Their goal is to create an online community that builds and fosters relationships between moms so that they can share their struggles and triumphs with others. If you're a parent, this podcast is for you!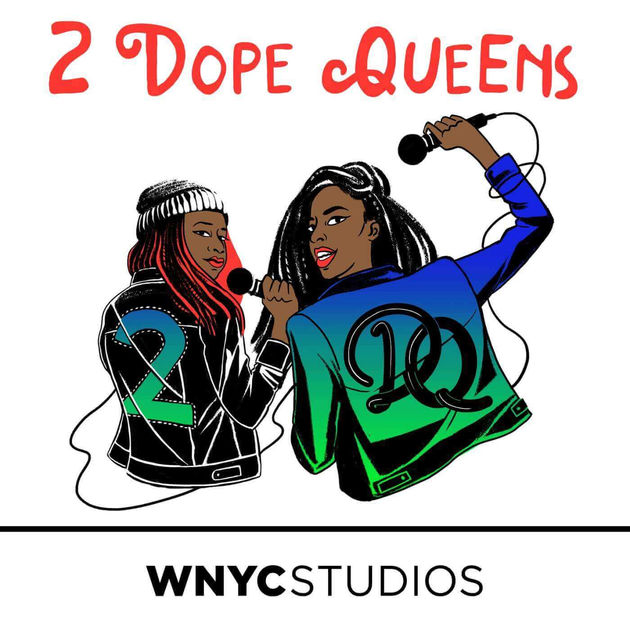 Join Phoebe Robinson + Jessica Williams as they broadcast from Brooklyn, NY in this hilarious and real podcast. Throughout their show, they talk about their adventures in dating, the working world + what it's like to live in New York. They even feature stand-up comedians during each of their broadcasts. Though the show doesn't produce new episodes anymore, the more than 2 years of back episodes of 2 Dope Queens will keep you satisfied until you're ready to check out where Phoebe and Jessica are headed next!
Coining the term "actionable empowerment," the goal of the #WomeninTech podcast is to feature inspiring women in the tech field. The frequent new episodes is hosted by WeAreLATech's Espree Devora and features inspiring Women in Tech from engineers, female founders, investors, UX and UI designers, and journalists all sharing their story how they got to where they are today. Devora says the purpose of her show is for every listener to walk away feeling like, '"If she can do it, so can I."
What's your favorite podcast? Which of our list are you interested in listening to?