Large, hand-tossed, thin crust, and falling off your plate are all things to describe the classic New York Slice. Foldable, yet crispy, a New York slice is the perfect vessel for your toppings of preference. Using a light layer of tomato sauce and full-fat mozzarella cheese, the New York slice is a direct descendant of the Neapolitan immigrants from Italy who settled in the city.
Here are our top picks:
John's of Bleecker Street (NoHo)
Photo courtesy of Josh Levinson
The famous deep dish. The characteristically deep crust is thanks to the steel pan the pizza is baked in. More so a pizza pie than a flatbread, the Chicago Deep Dish is massive in size and is meant to be enjoyed sitting down with company when compared to the on-the-go nature of the New York Slice. With ingredients like corn meal in the dough, the Chicago Deep Dish's crust is known to take on a distinct yellow tone.
Here are our top picks:
Photo courtesy of Cheryl Baehr
This midwestern city prides itself on its distinct style of pizza. Its dough is baked without yeast, making its signature thin crust. Cut into squares + rectangles instead of wedges, the St. Louis pizza has been dubbed the "party pizza" due to its easy sharing abilities. This pizza is commonly used with Provel cheese, a fuse of provolone, Swiss, + white cheddar instead of just provolone or mozzarella.
Here are our top picks:
Photo courtesy of Belle Isle Pizza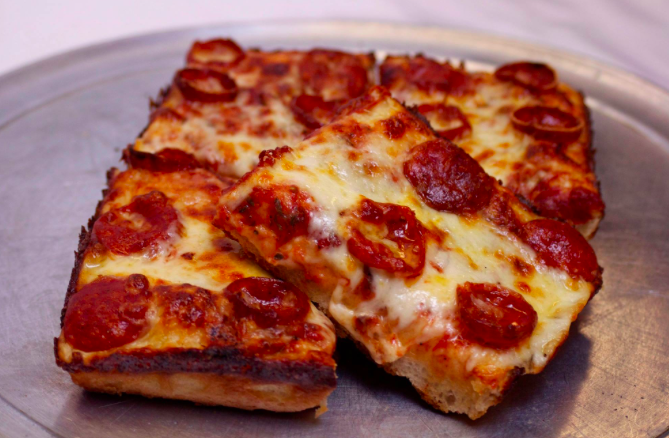 A hybrid of St. Louis style and Chicago style, the Detroit pizza is characterized as having a thick, flaky crust, square shape, + is commonly topped with pepperoni and mushrooms. In true Detroit fashion, the pizza is baked in rectangular pans reminiscent of industrial part trays from factories.
Here are our top picks:
Photo courtesy of CPK
Utilizing non-traditional toppings, the California style pizza integrates new flavors into the tried-and-true New York format. You name it, California has created a pizza dedicated to every ingredient, flavor, and cooking cuisine. Try adding goat cheese + duck sausage or avocado + arugula to spice up your slice.
Here are our top picks:
Caioti Pizza Cafe (Studio City)
Photo courtesy of Amy Kundrat
Known locally as apizza not pizza, the New Haven style is coal-fired and derives from its Neapolitan ancestors. Crispier and thinner than New York's, the New Haven plain style uses oregano, tomato sauce, + a small amount of pecorino romano cheese. Mozzarella, or Mootz as its commonly referred to in the area, is considered a topping and does not automatically come when ordered. You have to specifically ask!
Here are our top picks:
What is your favorite kind of pizza? Sound off in the comments!