Happy National Ice Cream Month! In the heat of the summer, nothing cools you off quite like a cup, cone or shake of your favorite flavor of ice cream, but not all scoops are made equal.
Check out our list below to see the most innovative flavors + shops in America. You just might be inspired to take a trip + find a new favorite to beat the heat!
Written by: Emily Fitzgerald
2620 16th St, Denver, CO 80211, Daily: 10AM-1AM
Little Man Ice Cream will provide an unforgettable ice cream experience! This shop, located in the heart of Denver, has been serving classic + unconventional flavors from a 28 ft. tall cream can since July 4th, 2008. Their flavors range from classic Vanilla Bean to Cookie Dough to something they call Space Junkie! Can't have dairy? No worries! They also have various sorbets + vegan flavors like Chocolate Salted Oreo!
Here's the Scoop: Little Man Ice Cream founded a program called "Scoop for Scoop," which provides a scoop of rice, beans, or other essential food to a community in need anywhere around the world for every scoop of ice cream sold!
Ben + Jerry's Factory Tour
1281 Waterbury Stowe Rd Route 100, Waterbury, VT 05676, Mon-Wed: 9AM-9PM; Thurs-Sun: 10AM-7PM
If there are two people who definitely know ice cream, it's Ben and Jerry, so their factory tour had to make the list! Though the tour itself is only 30 minutes, it is jam packed with information + experiences, including the company's history and manufacturing process, a Q+A session in the Flavoroom, and time to sample one of their delicious flavors!
Here's the Scoop: There's a Flavor Graveyard at the factory where visitors can walk through and pay their respects to "dearly de-pinted" flavors!
35 Palmer Square W, Princeton, NJ 08542, Mon/Tues: 12-6PM; Sun, Wed, Thurs: 12-10PM; Fri/Sat, 12-11PM
When you think "weird + interesting flavors," think The Bent Spoon. Their seasonal menu includes options like Heirloom Tomato or Cardamom Ginger but don't be afraid; customers rave about them and only complain that the flavors aren't offered more often! The shop itself is rustic + airy, providing the perfect backdrop for that cute Insta shot of your sweet treat.
Here's the Scoop: The Bent Spoon offers more than just ice cream! They also make their own hot chocolate + marshmallows (and they're available online to ship)!
1113 Park Center Blvd. Boise, ID 83706 Sun: 11AM-9PM; Mon-Fri: 11AM-10PM; Sat: 10:30AM-10PM
The Westside Diner may seem ordinary, but they serve a treat that is anything but! When you check their dessert menu, you might just double take at their "ice cream potato," but trust us, it's an experience worth trying. This cool treat is a large scoop of vanilla ice cream rolled in cocoa powder and topped with soft-serve "sour cream." It looks just like a baked potato, but we wouldn't expect anything less in Idaho.
Here's the Scoop: If you fall in love with something on their menu, check out their website! Their chef has shared a number of the restaurant's recipes online for customers to use at home.
1210 Manchester St, Lexington, KY 40504 Sun-Thurs: 12-10PM; Fri/Sat: 12-11PM
Crank & Boom describes their store as an "ice cream lounge" and after seeing pictures it's easy to see why. Their store is more than a walk-up window for ordering before grabbing a seat at a picnic table; its welcoming atmosphere invites customers to hang out for a while, creating a sense of community. When you check out their menu, you have the option to try their inventive flavors (think blueberry lime cheesecake or bourbon + honey) in a solo scoop or as part of one of their Signature Sundaes!
Here's the Scoop: Crank & Boom actually started as a Thai restaurant that branched out to serve one flavor (coconut) as a dessert option. When they noticed that customers were coming just for dessert, they realized they were onto something and shifted to serving exclusively ice cream!
Molly Moon's Homemade Ice Cream
½ 1622 N 45th St. Seattle WA 98103 Daily: 12-11PM
At Molly Moon's Homemade Ice Cream, you'll "come for the ice cream + stay for the charm of their scoops shops!" Everything about their shop shows the pride they have for their state, whether it's regionally inspired flavors or locally sourced ingredients! Try their "Scout" Mint, which uses Thin Mints annually purchased from local scout troops, or Cookie Dough, which pays homage to Hillary Clinton's award winning cookie recipe!
Here's the Scoop: At their flagship store in Wallingford, there is a "parklet" out front, which features swing seats + a small hill that encourages visitors to hang out whether they have ice cream or not!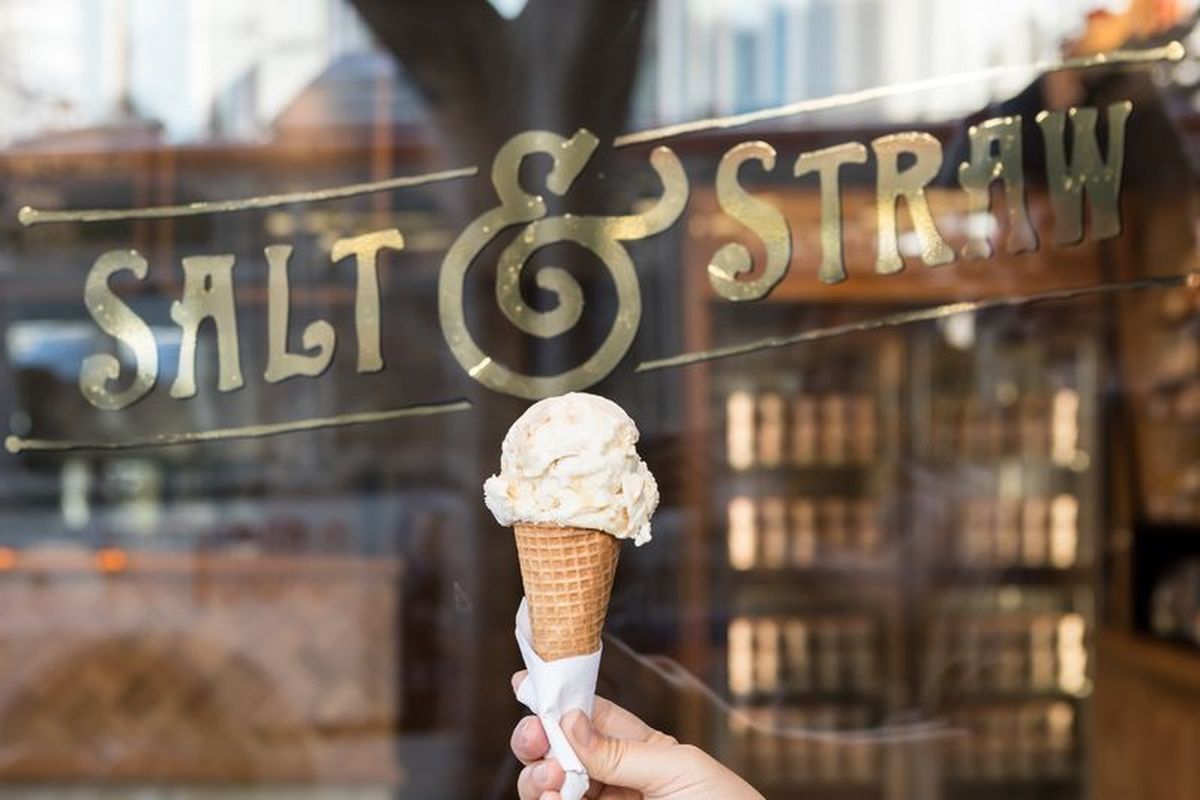 838 NW 23rd Ave. Portland, OR Daily: 10AM-11PM
During the summer it's all about berries at Salt + Straw so you have to try one of their seasonal hits like Goat Cheese Marionberry Habanero or Meyer Lemon with Blueberries. If you're not so into berries or if dairy isn't your thing, their classic flavors like Chocolate Gooey Brownie or (vegan) Roasted Strawberry Coconut are also delicious!
Here's the Scoop: Fall in love with Salt + Straw flavors or don't live close enough to try them? They offer an ice cream subscription that gets delivered right to your door! Don't worry; it's packed in dry ice so your treats are melt-proof!
2901 S Lamar Blvd, Austin, TX 78704 Sun-Thurs: 11AM-11PM; Fri/Sat: 11AM-12AM
You haven't had ice cream until you've been to Amy's Ice Creams! They're famous for their high-flying ice cream acrobatics (no really; they've won the Trick Olympics) so your experience is sure to be memorable from start to finish. Besides the cool tricks, Amy's also has over 350 flavors on rotation throughout the year; just try not to fill up on samples!
Here's the Scoop: Amy's names an "Ice Cream of the Year" each year that embodies the heart + soul of the Amy's community! These creations often come with a short video to illustrate the fusion of flavors customers can expect in their scoop.
5223 N Central Ave, Phoenix, AZ 85012 Mon-Fri: 11AM-11PM; Sat: 9AM-11PM; Sun: 9AM-10PM
This shop may look retro but its flavors are definitely modern! Churn features classic flavors with a twist like Madagascar Vanilla or Cookies + Mint in addition to more out-there rotating flavors like Peaches N' Honey or Candy Corn! Looking to step up your ice cream game? Try one of their Lil' Freezies that combines their delicious ice cream with various toppings to create one unique experience.
Here's the Scoop: In addition to regular cups + cones, Churn also offers a pretzel cone for customers to combine sweet with salty. However, if you prefer sweet with sweet, they also have a build-your-own ice cream sandwich option where you pick the cookies + the ice cream. Yum!
Mount Desert Island Ice Cream
7 Firefly Lane, Bar Harbor, ME Daily: 10AM-11PM
The owner says she's "living the dream; making the cream" and she means it! Mount Desert Island Ice Cream makes premium, homemade ice cream in small batches (aka only 5 gallons at a time), so you know you're getting the good stuff at this shop. The flavors are locally sourced and the menu reflects it, featuring options like Cookies + Maine Cream or Maine Strawberry.
Here's the Scoop: Their original store was visited by Barack + Michelle Obama in 2010! He had the Toasted Coconut and she had Chocolate, if you want to try some presidential flavors.
Did your favorite flavor make the list?
Comment below + tell us your favorite place to grab a scoop!